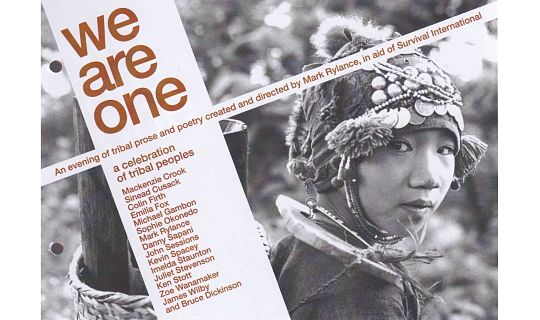 We Are One at the Apollo
The Evening Standard says
Rylance hopes that We Are One will inspire people and incite them to protest, but not to guilt-trip them. "I'm hoping it will have lots of eloquence and beauty and delight in it," Rylance says. "I want to raise consciousness of Survival's work, and raise some funds they will make good use of. And I hope it will be something we can refine and do again " He lets out a delighted chuckle. "Something sustainable!"
Time Out says
A jaw-dropping array of theatre and screen talent – from Kevin Spacey and Gillian Anderson to Mark Rylance and Sinead Cusack – offer up readings of tribal prose and poetry in this fundraiser for Survival International.
Survival International
This unique theatrical event is inspired by the words and images of tribal peoples featured in the recently published book We Are One – a celebration of tribal peoples, created and edited by Jo Eede and published by Quadrille Publishing, to mark the 40th anniversary of Survival.
The Express says
"Rylance is putting together a performance of tribal prose and poetry in aid of the charity. Inspired by the book We Are One by Joanna Eede, he has pulled in a few friends, including Colin Firth, Kevin Spacey, Michael Gambon, Juliet Stevenson and Mackenzie Crook, among others, to perform on April 18 at the Apollo Theatre, London".
Broadway World
A new anthology called We are One portrays tribal peoples today – their communities, art, humour, rituals, languages and wisdom, as well as their connections to their homelands and their struggle for recognition and survival – through a powerful collection of prose, poetry and photographs.